This 1.5 hour 'Top 20 Stress Management Tips and Tecniques course provides a suite of practical, effective and impactful stress management tips and techniques with activities and exercises to help prevent and manage your stress, remain calm and relax, so that you can make the most of yourself and situations.
It's for anyone looking to prevent or manage stress/manage emotions in practical and easily-implementable ways. It's made up a number of brief videos, one tip/technique per vid, from 'thinking skills' to relaxation/breathing techniques to exercises in self-compassion and self-belief. There's a workbook too.
Cost: £99, no VAT. However, for my website visitors there's a 20% discount for a limited period: at checkout insert 'top20couponcode'. There's also a free preview/introductory video so you can 'try before you buy'.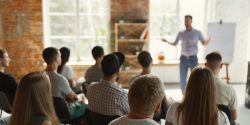 Click on the image above to find out more and/or register for the course.